Yard House Receives Star Award from CDSA for Helping People with Developmental Disabilities Develop Job Skills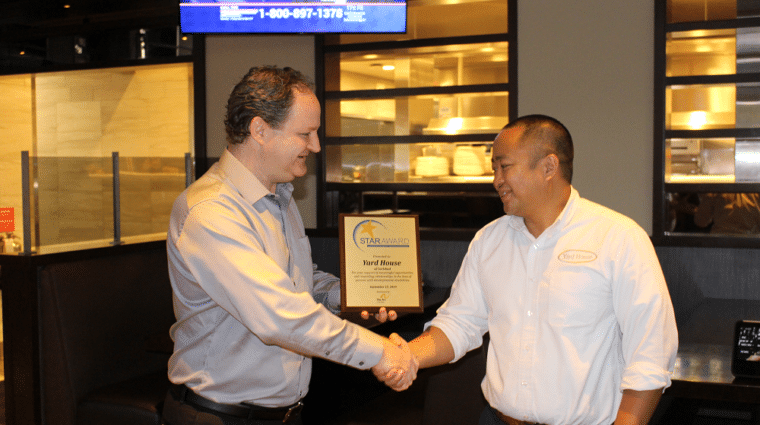 Yard House Receives Star Award
For Helping People with Developmental Disabilities Develop Job Skills
Star Award from California Disability Services Association
Photos from the awards presentation can be downloaded here.
The Yard House restaurant in Carlsbad was honored with a Star Award from the California Disability Services Association in recognition of their commitment in providing employment and learning opportunities to people with intellectual and developmental disabilities in San Diego for the past 13 years.
Yard House has provided employment opportunities to clients of The Arc of San Diego at three different locations in the area: Downtown San Diego (closed in 2015), Mission Valley, and Carlsbad. The clients have part-time positions at a restaurant assembling silverware, setting tables and cleaning the dining room. They learn essential work skills while earning a paycheck in a friendly and supportive environment. It has also given clients the chance to work in team oriented, high-volume, and fast-paced environment, helping them develop communication and decision-making skills.
"The clients say that they love the work they do at Yard House and look forward to going there every day," said Anthony J. DeSalis, Esq., Presdient & CEO of The Arc of San Diego. "The Yard House staff, especially manager Ben Benzon, are very supportive, making sure the clients have reasonable accommodations when they come in and providing them with support if they need guidance on any given task."
"The opportunities that Yard House has provided to our clients go beyond financial support – it has contributed to their independence and ability to live their most fulfilling lives," continues DeSalis. "It has become increasingly more difficult to find paid work sites in San Diego, especially ones that pay minimum wage to people with intellectual and developmental disabilities. Not only has Yard House shown a desire to hire individuals with disabilities, but they have helped our clients succeed in their jobs and grow personally. Ben and other members of the team make each client feel like they are a valuable part of the team and communicate that to them on a regular basis."
Yard House restaurants are casual eateries featuring classic rock and a large selection of imported, craft, and specialty ales and lagers. Yard House is a part of the Darden Family of Restaurants – the world's largest casual dining company, named "2018 Best Places to Work – Employee's Choice" by Glassdoor. Yard House has more than 70 restaurants across the country and is growing by at least 10% each year. In San Diego County, Yard House has two locations, one in Carlsbad and one in Mission Valley.
The Arc of San Diego, a private, not-for-profit corporation, is the largest, most comprehensive service provider for people with disabilities in San Diego County, serving over 2,000 children and adults with disabilities such as autism, cerebral palsy, and Down syndrome each year. For more information on The Arc of San Diego, please visit www.arc-sd.com.
The Star Award program is sponsored and run by the California Disability Services Association (CDSA), which has been the voice for developmental disability service providers in California for more than 40 years. CDSA is a trade association representing 80-plus community-based, direct care providers whose common purpose is to help Californians with developmental disabilities lead productive and fulfilling lives of their choosing. These organizations serve 51,000 clients and employ some 19,000 people.
Service providers respect the dignity, diversity of needs, feelings and independent thought of their clients, working with parents and families, the Regional Centers, and other advocacy networks.
Developmental disabilities include, but are not limited to: autism, epilepsy, intellectual disability, cerebral palsy, Down syndrome and other severe, chronic disabilities.
###