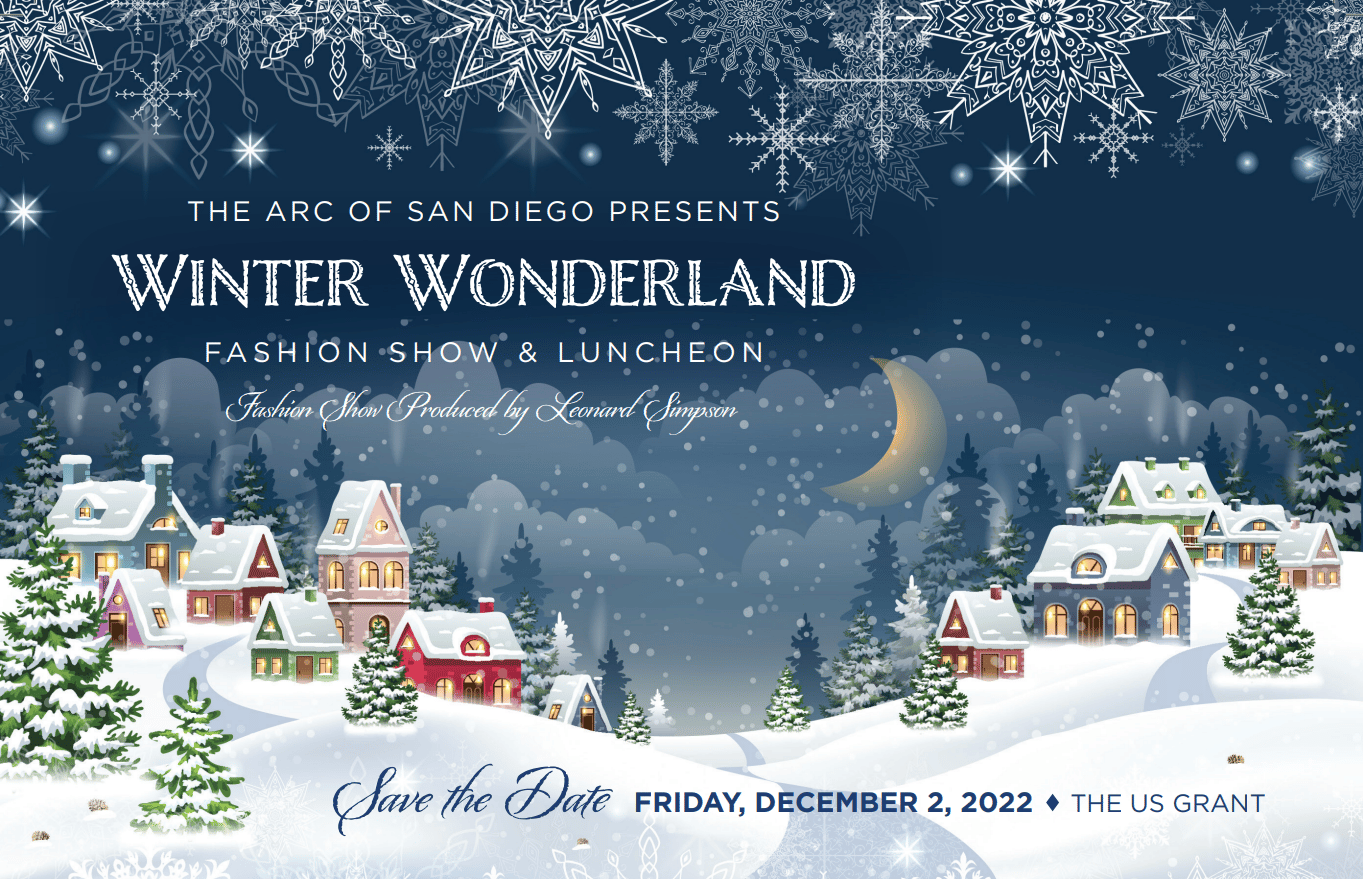 Join us for Winter Wonderland
Fashion Show & Luncheon!
We are proud to announce the return of Winter Wonderland Fashion Show & Luncheon on Friday, December 2, 2022. This magnificent affair features a fashion show produced by Leonard Simpson, vendor boutique and silent auction with all proceeds benefitting life-changing programs at The Arc of San Diego.
Friday, December 2, 2022 
The US Grant
326 Broadway
San Diego, CA 92101
10:00 a.m. Registration, Vendor Boutique, & Silent Auction
12:00 noon Luncheon & Fashion Show
Chairs
Maria Stanley
Cici Drummond
Dee Ammon                        Daran Grimm                                     Ludvina Nevarez       
Laura Applegate                 Roxi Link                                            Phyllis Parrish
Judy Burer                            Nayda Locke                                     Clarice Perkins
Vicki Eddy                            Christina Maggiora                           Kristi Pieper
Arlene Esgate                      Dr. Howard & Barbara Milstein      Sandy Redman
Judi Gottschalk                    Cheryl Mitchell                                 Kathryn Vaughn
                                                                                                          Maggie Watkins

Thank you to our Sponsors

Jon & Linda Kurtin
Norma Hidalgo-del Rio, RPh
Leo & Emma Zuckerman
Foster & Pamela Beckett Stahl
Arlene Esgate
Dr. & Mrs. Howard G. Milstein
For more information on sponsorships and purchasing tickets, please contact Jennifer Bates Navarra,
Vice President of Marketing & Development, at (619) 685-1175, ext. 1291 or by email.