Thermo Fisher Seeks Candidates with Autism for New Neurodiversity Hiring Program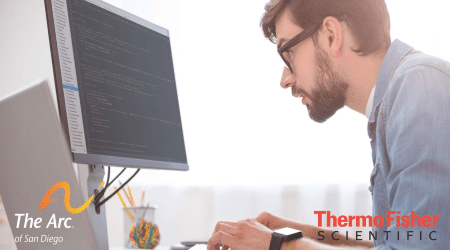 SAN DIEGO – This August, The Arc of San Diego is partnering with Neurodiversity in the Workplace and Thermo
Fisher Scientific to launch a training/hiring pilot program for candidates with autism. Neurodiverse individuals, or
individuals with autism spectrum disorder, are often underrepresented in the workplace with only 16% of adults with
autism having full-time positions. Neurodiverse candidates often struggle to fit the profiles sought by prospective
employers due to challenges in communication and forming relationships, even though many have specialized skills
that are in high demand, especially in the fields of science and technology.
Through this innovative neurodiversity hiring program, selected candidates will attend a two-week training program
at Thermo Fisher Scientific's Carlsbad, CA location for roles specializing in data science and technology. Upon
completion, some candidates will be offered full-time positions at Thermo Fisher's Carlsbad, CA location based on
their performance.
Requirements include the completion of a four-year or graduate college degree program with a focus in data or
computer science, technology or a related field. Candidates should also have an expertise in technology, specifically
data science, statistical data modeling, machine learning, AWS and object-oriented programming. Interested
candidates should send their resume to Neurodiversity@arc-sd.com or call 619-685-1175 for more information.
About The Arc of San Diego
The Arc of San Diego is one of the largest, most comprehensive service providers for people with disabilities in San
Diego County, serving over 2,000 children and adults with disabilities such as autism, cerebral palsy, and Down
syndrome each year. For more information on The Arc of San Diego, please visit www.arc-sd.com. Follow us on
Facebook at www.facebook.com/TheArcSanDiego, Twitter at www.twitter.com/TheArcSanDiego, and Instagram at
www.instagram.com/thearcsandiego/.
About Neurodiversity in the Workplace
The Neurodiversity in the Workplace Initiative was started by The Arc of Philadelphia to shed light on the possibilities
that workforce diversity can offer, not just to employers, but to their communities as well. Since 2014, they've
developed a network that instills professional training for people with Autism and supports more inclusive hiring
practices for companies across the nation. For more information, visit https://phillyautismjobs.com/.
About Thermo Fisher Scientific
Thermo Fisher Scientific is the world leader in serving science, with revenues of more than $24 billion and
approximately 70,000 employees globally. Their mission is to enable customers to make the world healthier, cleaner
and safer. They help customers accelerate life sciences research, solve complex analytical challenges, improve patient
diagnostics, deliver medicines to market and increase laboratory productivity. For more information, visit
https://www.thermofisher.com/us/en/home.html.