The Arc of San Diego Resumes In-Person Services After Centers Being Closed for More Than a Year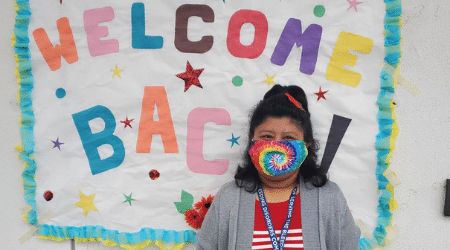 The Arc of San Diego is excited to welcome clients back for in-person services at its five centers across San Diego County. In March 2020, The Arc of San Diego temporarily suspended in-person services at their center-based locations due to COVID-19. This included The Arc of San Diego's Adult Day Services and Community Inclusion Services, which transitioned to virtual programming. A limited number of participants in both programs are currently returning to The Arc's centers and sites throughout the community.
While The Arc of San Diego was significantly affected by the COVID-19 pandemic, many of its critical programs for individuals with disabilities never stopped operating and clients continued to receive support.
"As an essential service provider, we knew we had to come up with a way to support our clients and ensure their needs were still being met," said Anthony J. DeSalis, Esq., President & CEO of The Arc of San Diego. "Instead of ceasing operations, we reinvented our services. We began communicating virtually with our clients who we could not see in person."
"Staff in our residential homes worked overtime to provide 24/7 care for our clients who were quarantined at home," continued DeSalis. "For clients who were having a hard time coping without seeing their direct support professionals, we arranged at-home one-on-one visits. Job coaches picked up extra shifts to be there for employees working at essential businesses. We reimagined our future, and found new ways to offer the same great quality of services."
Over the past year, the reinvention of programs at The Arc offered services to meet clients' needs while limiting exposure to COVID-19. These services include remote learning and other activities that allow clients to receive support from staff members at their home.
During COVID-19, the organization provided remote services to 441 individuals with disabilities in their Adult Day Services, and held more than 300 virtual classes each month.
The Arc of San Diego is grateful for the opportunity to reopen its doors and to continue providing essential services to individuals with disabilities throughout San Diego.
The Arc of San Diego, a private, not-for-profit organization, is the largest, most comprehensive service provider for people with disabilities in San Diego County, serving over 2,000 children and adults with disabilities such as autism, cerebral palsy, and Down syndrome each year. For more information on The Arc of San Diego, please visit www.arc-sd.com.
###