Employment Services for Individuals with Disabilities
The Arc of San Diego's Employment Services program finds jobs for people with disabilities in a variety of positions and industries throughout the community.
Individual Employment
Our staff informs clients of job openings, helps with completion of job applications, and teaches interviewing skills. Clients get advice on what to wear, help with resume building, and how to handle difficult questions. They also learn how to access public transportation to get to and from work. When clients are ready to begin their new job, our job coaches make sure they know their responsibilities. Job coaches continue to provide support for a period of time during employment.
Group Employment
Clients in the community work in a group setting with a job coach for a fixed number of hours each week. Working together at businesses, each client is responsible for a different job assignment or task. The daily schedule varies based on the needs of the business.
Interested?
For more information contact Pete Sciabarra, Ph.D., Senior Director of Employment Services, at (619) 685-1175, ext. 1227 or via email.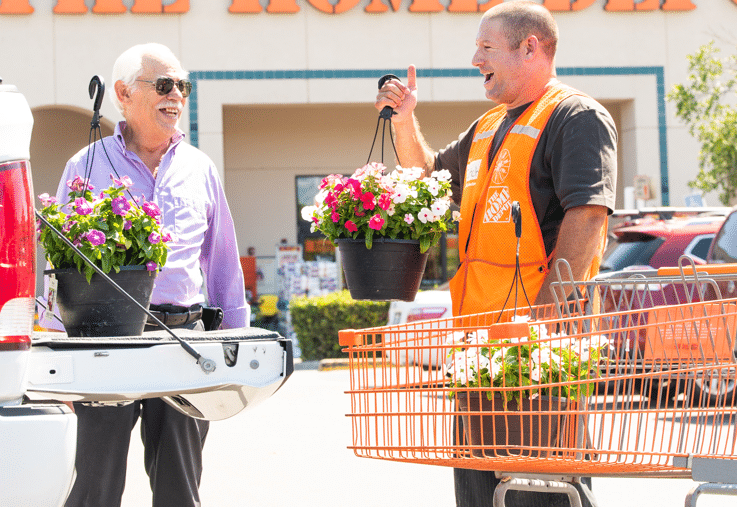 Work crews with the support of their job coaches perform service jobs in the community such as groundskeeping and janitorial services. Clients learn about health and safety as well as the proper use of tools and equipment to complete tasks.
Group Employment opportunities include:
Marine Corps Recruit Depot (MCRD) Food Service
Marine Corps Recruit Depot (MCRD) Landscaping
Mobile Grounds Landscaping Crew
Bus Detailing Crew
Warehouse Packaging and Assembly
Janitorial Services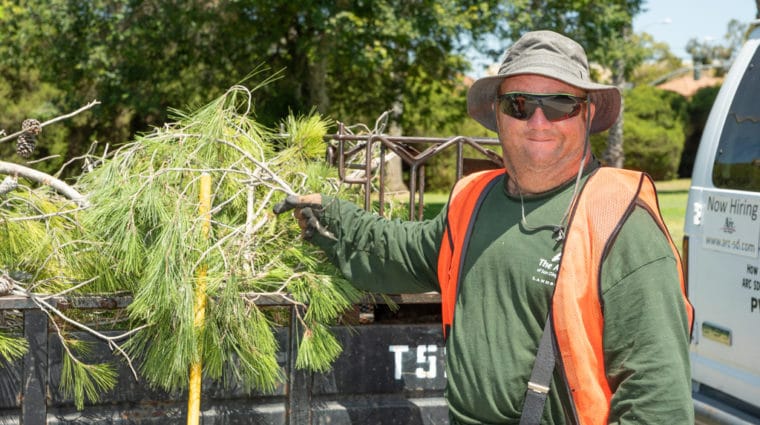 Direct Placement
The Arc of San Diego provides direct placement using disability employment services in partnership with the California Department of Rehabilitation. Our Direct Placement program helps with job placement, provides pre-placement training, and short-term support from a job coach.

Marine Corps Recruit Depot (MCRD) Food Service Program
The Arc of San Diego provides food services at the Marine Corps Recruit Depot 7 days a week/365 days a year. Food service attendants serve food, wash dishes, and clean the galley and kitchen. We are currently hiring and offer two shifts, one starting at 4:30 AM and one starting at 12:30 PM.
To apply for the Food Service Attendant position, click here.
Completed applications can be emailed to jobs@arc-sd.com or submitted in person at:
3030 Market Street
San Diego, CA 92102

Student Services
Student Services is a new program funded by the Department of Rehabilitation within the Individual Placement Program. This program is designed to assist youth ages 16-21 gain work skills by giving students up to 100 hours of paid work experience.

Paid Internships
San Diego Regional Center has started a paid internship program within the Individual Placement program.  An internship is a period of work experience offered by an employer to give individuals exposure to working in environments within their desired employment outcome goal. San Diego Regional Center is now offering clients the opportunity to participate in a paid internship program to acquire experience and skills needed for future paid employment opportunities. Internships can be traditional, apprenticeships and self-employment.

Organizational Employment Services (OES)
OES provides work opportunities to individuals through contracted work agreements. The Arc of San Diego has two sites: John Towers in El Cajon and The Sol and Ruth Gerber Center in Chula Vista that offer vocational training opportunities to individuals in a group setting.
Ace Parking
Air National Guard
Albertsons
Allied Inventory Systems, Inc.
Allsaid & Dunn,LLC
AMC Theatres
Angels Foster Care
Argen Corporation
BAE Systems
Berlin Packaging
Biofilm
Biomax Health Products, Inc.
Biotone
Cat Communication
Chili's
Chula Vista Elementary School District
City of Poway
City of Vista
Cobham Advanced Electronic Solutions
Combo Aluminum Products
County of San Diego Health & Human Services Agency
CVS
Dara, Inc.
Dawn Sign Press
dd's DISCOUNTS
Dogtopia
DoozyDog!
Encontro North Park
Essential Expressions
Forgotten Empires
Frito Lay
Geppetto's Toys
Global Elite, Inc.
Grocery Outlet
Grossmont Hospital
Harbor Packaging
Herranen Law
HM Electronics, Inc
Home Animal Care
Home Depot
Honey Bear Daycare
Hydranautics
Integrity Bottles
Intelligent Blends
Jimbo's
Job Options
Kroc Center
KVA & Associates
Kyocera America
Leading Edge Products
Lowe's Home Improvement
Lysulin, Inc.
Marine Corps Recruit Depot
Marriott
Marshalls
Metropolitan Transit System
Millennium Health
Mission Nazarene Preschool
MV Transit
Nan McKay
NCRC
NewMetro Design
Olive Garden
Osha4less.com
Paradise Village Retirement
PitchBox Media
Player's Sports Grill
Poway Unified School District
Ralphs
Ranch 45
Red Lobster
REI
Ross Dress for Less
Rubio's
Salvation Army
San Diego Air & Space Museum
San Diego County In-Home Supportive Services (IHSS)
San Diego Workforce Partnership
San Diego Zoo
Sauce Goddess
Scantibodies
SeaWorld
Seirus Innovation
Sisterlocks
Skin Authority
Skoy Enterprises
Smart & Final
Sony
Spirit of Liberty Foundation
Sprouts
State of California - Department of Rehabilitation
Stumps Family Marketplace
Subway
Sycuan Casino Resort
Target
Taylor Guitars
The George G. Glenner Alzheimer Family Centers
Thermo Fisher Scientific
Transdev
Uncle Keith's
Uniluv Marketing, Inc.
Veriteque USA, Inc.
Vitrolife Inc.
Vons
Walmart
Wander Wet Bags
Yard House