Melvin's Inspiring Journey: A National Disability Employment Awareness Success Story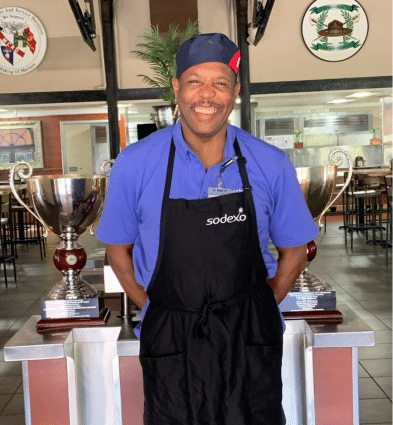 The Arc of San Diego's Employment Services offers people with disabilities the opportunity to learn essential works skills while earning a paycheck in a variety of positions and industries throughout the community. The Arc of San Diego provides employment training and support to more than 400 individuals each year.
Through The Arc of San Diego's Individual Placement Program, Melvin has been working at the Marine Corps Recruit Depot (MCRD) for 17 years. Employed since 2006, Melvin helps to feed the Marines and maintain the Mess Hall. Known by his job coach and mangers at MCRD as a kind person who is easy to get along with, Melvin is a very hard worker. He always makes sure that his assigned duties are completed while also ensuring that others are performing their tasks correctly too. This strong work ethic earned Melvin a well-deserved promotion from the recruit mess hall to the personnel mess hall, where he serves high-ranking officers and requires minimal supervision. For nearly a decade, Melvin has consistently demonstrated his dedication and professionalism within the personnel mess hall, contributing to the smooth operation of the facility.
Beyond the workplace, Melvin finds joy in attending church and cherishing time spent with his wife. As retirement approaches, Melvin eagerly anticipates the next chapter of his life and plans to return to his home state of Texas. Reflecting on his remarkable journey, Melvin's achievements stand as a testament to the incredible potential individuals with disabilities possess when given the right opportunities and support.