"Keep The Promise" Rally to Support Californians With Disabilities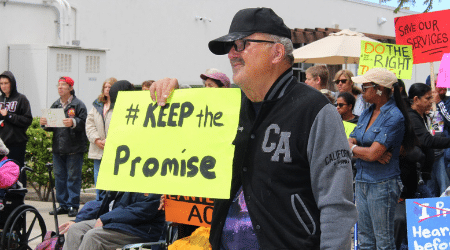 MEDIA ADVISORY
"KEEP THE PROMISE" RALLY TO SUPPORT CALIFORNIANS WITH DISABILITIES
Local Service Providers Rally to Restore Funding for Critical Services
for Individuals with Intellectual/Developmental Disabilities
San Diego, CALIF – On Friday, April 5, 2019 at 12:00 pm at the State Building (1350 Front Street, San Diego, CA 92101), members of the Developmental Disabilities Provider Network stand with the community we serve to request an increase in funding for the services that support people with intellectual and developmental disabilities. The rally calls on California lawmakers to "Keep the Promise" to the developmentally disabled community and provide an 8% budget increase to fund and restore crucial programs. A decrease in funding has led to the current collapse of an already fragile California Developmental Services System.
Advocates from local service providers including The Arc of San Diego, Home of Guiding Hands, Partnerships With Industry, and A Better Life Together will gather at the State Building and speak in support of increased funding and the preservation of the Lanterman Act. The Lanterman Act is a law passed in 1969 that guarantees Californians with developmental disabilities will receive the support necessary to live and work as independently as possible in their own communities. More than 330,000 individuals with intellectual and/or developmental disabilities live in the state of California; they are our neighbors, classmates, coworkers, family, and friends. However, their support structure has been underfunded and is failing. Direct Support Professionals are quitting the field or working multiple jobs due to low wages, essential programs are closing throughout the state, and individuals are forced to live with inadequate supports or without supports at all.
About the Lanterman Coalition
The Lanterman Coalition is dedicated to the preservation of the Lanterman Developmental Disabilities Services Act, or the Lanterman Act. This is the California law that says people with developmental disabilities and their families have a right to get the services and supports they need to live like people without disabilities. Since 2015, the Lanterman Coalition has been advocating for a funding increase across the board to begin restoring basic services to people with developmental disabilities. For more information, visit www. www.thelantermancoalition.org.
About The Arc of San Diego
The Arc of San Diego is one of the largest, most comprehensive service providers for people with disabilities in San Diego County, serving over 2,000 children and adults with disabilities such as autism, cerebral palsy, and Down syndrome each year. For more information on The Arc of San Diego, please visit www.arc-sd.com. Join The Arc of San Diego's social media community on Facebook at www.facebook.com/TheArcSanDiego, Twitter at www.twitter.com/TheArcSanDiego, and Instagram at www.instagram.com/thearcsandiego/.
###