Volunteers from Collins Aerospace Revitalize Garden at The Arc of San Diego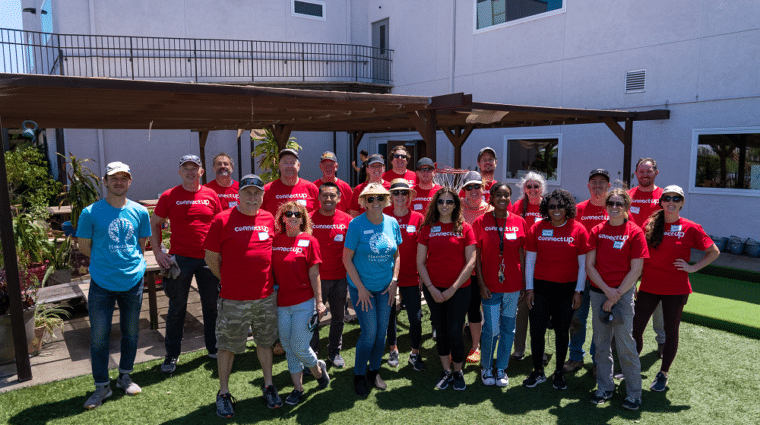 Volunteers undertook the landscaping project in honor of April as Global Volunteer Month 
SAN DIEGO, CALIF. – In partnership with HandsOn San Diego, volunteers from Collins Aerospace helped revitalize the garden area at The Arc of San Diego's Gerber Family Center in Chula Vista, California. This landscaping project included rebuilding and replacing planter beds, which are used by clients attending The Arc of San Diego's day programs. 
Volunteers helped dig the perimeter to help remove the old wood and be able to install new support stakes to rebuild. Once volunteers completed the task, the planter was painted and new soil was added for client use. Volunteers also helped with weeding various small and large elevated planters at the far side of the garden. 
The Arc of San Diego's location in Chula Vista, The Sol and Ruth Gerber Family Center, serves approximately 170 individuals with disabilities. These programs help clients achieve their personal goals including maximum participation in the community and in various work environments. In addition to life skills, functional academics, social skills, vocational skills, and physical wellness training, site-based activities for all programs include: cooking classes, gardening activities, art classes, music therapy sessions, and computer skills. 
"We are very grateful for the contribution of time and talent from Collins Aerospace and HandsOn San Diego," said Anthony J. DeSalis, Esq., President & CEO of The Arc of San Diego. "The revitalization of our garden area is instrumental to creating beautiful and safe spaces for our clients to create, learn, and enjoy outdoor activities."  
This event took place during April as Global Volunteer Month. Global Volunteer Month celebrates the power of people who tackle society's greatest challenges, and build stronger, more vibrant communities through volunteerism and everyday actions. At The Arc of San Diego, volunteers are critical to our growth, success and helping us fulfill our mission. In 2021, The Arc of San Diego had a total of 128 volunteers who contributed 1,945 hours of service.  
About The Arc of San Diego 
The Arc of San Diego is the largest, most comprehensive service provider for people with disabilities in San Diego County, serving over 2,000 children and adults with intellectual and developmental disabilities such as autism, cerebral palsy, and Down syndrome each year. For more information on The Arc of San Diego, please visit www.arc-sd.com. Join The Arc of San Diego's social media community on Facebook at www.facebook.com/TheArcSanDiego, Twitter at www.twitter.com/TheArcSanDiego, and Instagram at www.instagram.com/thearcsandiego/.  
About HandsOn San Diego 
HandsOn San Diego is the county's only regional nonprofit focused solely on connecting volunteers with community needs. Founded in 2013, HandsOn San Diego's mission is to strengthen communities through volunteer action. They believe that when individuals are actively engaged, communities are stronger. HandsOn San Diego is fiscally sponsored by Mission Edge San Diego, a 501(c)(3) organization. For more information, visit www.HandsOnSanDiego.org.  
About Collins Aerospace 
Collins Aerospace, a unit of Raytheon Technologies Corp., is a leader in technologically advanced and intelligent solutions for the global aerospace and defense industry. Collins Aerospace has the extensive capabilities, comprehensive portfolio and broad expertise to solve customers' toughest challenges and to meet the demands of a rapidly evolving global market. For more information, visit CollinsAerospace.com.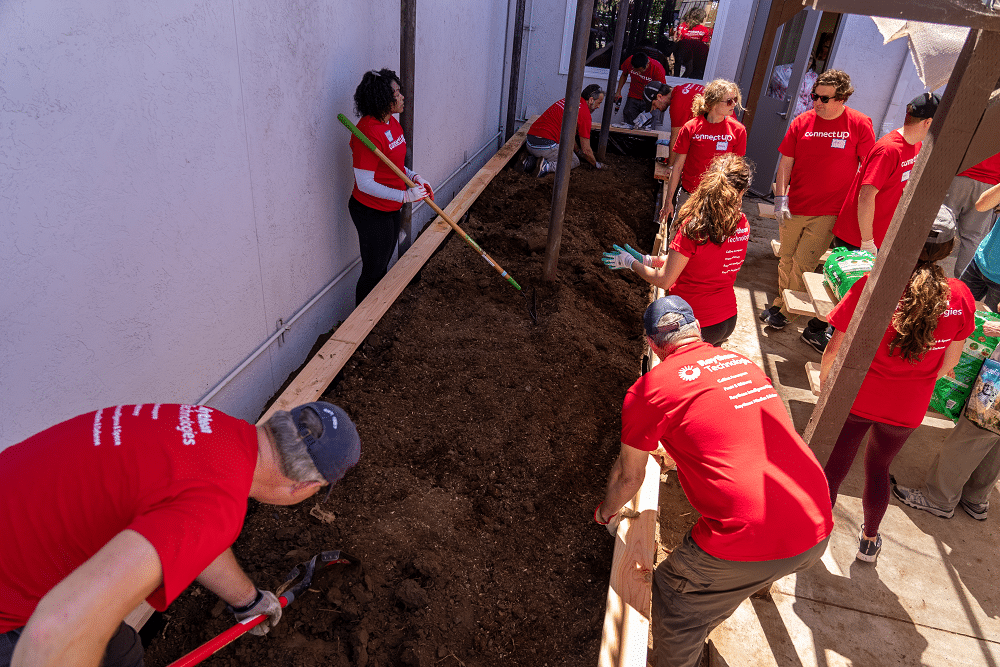 Pictured: Volunteers adding new soil to newly built planter beds in the garden at The Sol and Ruth Gerber Family Center 
###