Judy Adams: NCPC Honoree Volunteer of the Year – A Remarkable Legacy of Giving Back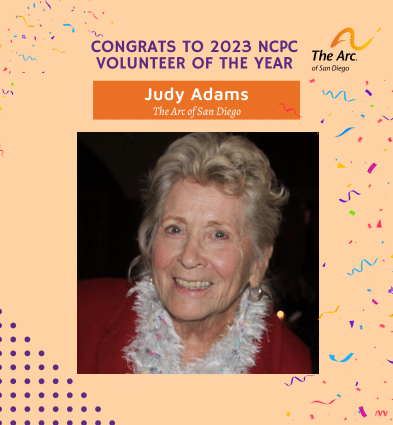 The Arc of San Diego is thrilled to announce Judy Adams will be recognized at the North County Philanthropy Council's 36th Annual Volunteer Awards Celebration. Volunteers like Judy are critical to the success of many of San Diego's nonprofits and the purpose of this event is to honor their service.
Judy serves as a Board Member for The Arc of San Diego Board of Directors and a Secretary for the North County Chapter Advisory Board. Her volunteer journey has been characterized by a genuine desire to create life-enhancing experiences for those with intellectual and developmental disabilities receiving services from The Arc of San Diego. From implementing our annual holiday bazaar to countless client and staff lunches, Judy has proven her commitment to our organization.
For Judy, being a volunteer is more than just lending a helping hand; it's about making a lasting impact on the lives of those she serves. She finds particular fulfillment when clients request a redo of a project or event that brought them joy in the past. To Judy, this signifies that her efforts have genuinely enriched the lives of the individuals with disabilities that she works with.
It is volunteers like Judy who make it possible for organizations like The Arc of San Diego to continue our essential work.
Congratulations Judy!
Learn more at: https://bit.ly/3LLwU53