Celebrating NDEAM: Inspiring Dedication to Empowering San Diego's Disability Community through Art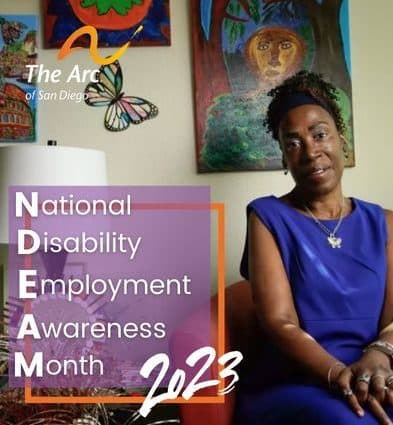 National Disability Employment Awareness Month (NDEAM) is a time to promote inclusion, and raise awareness about the importance of equal employment opportunities for all.
---
We want to take this moment to recognize Vickie Lawrence, Board Member and client of The Arc of San Diego. We celebrate her tireless efforts and unwavering commitment to improving the lives of individuals with disabilities. Her dedication to making a difference in the lives of those we serve is a source of motivation for everyone involved with our organization.
Vickie's inspiring story was recently shared in the San Diego Union-Tribune, highlighting her incredible achievements, a remarkable journey and her dedication to serving people with disabilities through her passion for art.
Congratulations to Vickie on all of your accomplishments!