San Diego Author with Disability Debuts First Book, Now Available on Amazon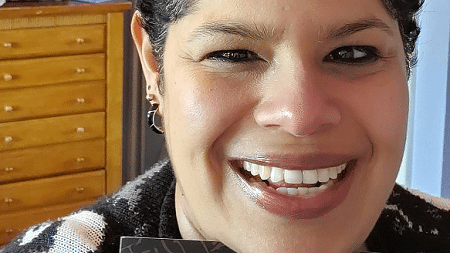 In honor of March National Disability Awareness Month, The Arc of San Diego is celebrating a major accomplishment by Alejandra Tenorio, who has received services from The Arc since 2012. After being furloughed from her job at AMC 20 Theaters last year, Alejandra used the extra time at home to write and publish a book which is now available on Amazon.
Alejandra's book "All You Need for Halloween" is a collection of short stories and poems about Halloween, Alejandra's favorite holiday. Alejandra has loved Halloween ever since she was little, and wanted to write something that she could share with her nephew and her friends' children. "I wanted to make something that kids could read that wasn't too scary," said Alejandra.
The book began as an assignment Alejandra was given for her writing class through San Diego City College. She discovered that she liked the stories she was writing so much, she wanted to turn them into a book. With the help of her teacher, she began editing her stories and researching how to publish a book on Amazon. At one point, Alejandra realized her book was not long enough for Amazon's criteria, so she worked with her teacher to add photos to adjust the length.
Alejandra has been taking classes since 2008 for English, Math and Writing. Writing in English has not always been easy for Alejandra, as English is her second language. Alejandra came to The Arc of San Diego in 2012 for support with seeking employment. With the support of her job coach, Alejandra obtained a position at VONS, then KMart, then AMC Theaters, where she has worked since 2017. Alejandra loves her job as a greeter and looks forward to working again once theaters reopen.
While Alejandra's life and routine changed drastically from the pandemic, she chose to focus on the positives of the situation. "If I did not have this extra time at home, I would not have done this. I was able to find something I like doing," said Alejandra. She is now working on publishing a second book on Amazon, a collection of poems. Her book "All You Need for Halloween" is available on Amazon as a paperback for $13.
About March National Disability Awareness Month
March was officially recognized as National Disability Awareness Month in a proclamation from President Ronald Reagan in 1987. This month commemorates the progress toward improving the lives of people with disabilities and also highlights the challenges that remain in achieving full inclusion.