Celebrating National Disability Employment Awareness Month (NDEAM)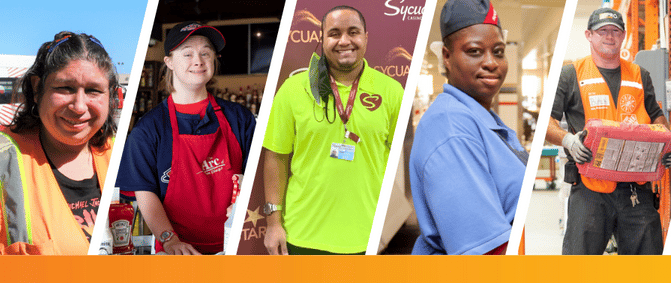 The Arc of San Diego is proud to celebrate National Disability Employment Awareness Month (NDEAM). Observed annually in October, NDEAM celebrates the contributions of America's workers with disabilities and highlights inclusive employment policies and practices. According to the U.S. Department of Labor, the theme for 2022 is 'Disability: Part of the Equity Equation' in recognition of the vital role people with disabilities play in making the nation's workforce diverse and inclusive. To learn more about the theme for NDEAM 2022, click here.
In 2021, The Arc of San Diego provided training and support to more than 400 individuals with disabilities. These efforts are strengthened by partnerships with over 100 local businesses, municipalities and government agencies that employ individuals with disabilities and support their desire to achieve full inclusion and independence not just in the workplace but in all aspects of their community.
Employers and employees in all industries can learn more about how to participate in NDEAM and ways they can promote its messages all year long. Learn more by reading these Ten Ways to Foster the NDEAM Spirit Year-Round!
Read more below about some of the diverse stories, careers and experiences of our clients here at The Arc of San Diego!
Jennie works at The Lawrence Family Jewish Community Center (JCC) in La Jolla as a barista at their coffee shop, The Bean. In her role, Jennie serves beverages and food to customers. "I enjoy making the drinks and saying 'Hi' to the customers," said Jennie. "I also love my coworker, my manager and my job coach."
"It's been great to watch Jennie excel at her barista skills and come out of her shell," said Wendy Smith, Inclusion Director at the JCC. "She is great with customer service and has worked hard to get to know everyone and make it a great experience for everyone who comes in."
With her income from The Bean, Jennie is saving up to buy her own bicycle. "I also love flying and want to take a trip to Hawaii in the future," said Jennie.
The JCC plans to expand programs similar to The Bean throughout the rest of the center. Smith says the next opportunity will be at the JCC's fitness center where they will be hiring fitness attendants to work with the guest services team. Eventually they hope to expand to employment opportunities at the JCC's preschool and administrative offices.
"Everybody deserves to have something meaningful that they're working for," said Smith. "It's up to us to break down those barriers and make sure that can happen."
Ty works at Sycuan Casino Resort as a busser at the Pink Buddha restaurant. While Ty has only been there for three months, he has already shown he can handle additional responsibilities such as showing newer staff members the ropes. Not only has he learned how to properly bus and set up tables, but he also assists guests with their to-go meals.
"Ty joined our team at Pink Buddha a few months ago and has made incredible contributions to our team since day one," said Christina Baumgardner, Ty's Manager at Pink Buddha.
"He is a true a pleasure. Ty's work ethic is evident every day and he is incredibly responsible with his busser role. In addition, he is more than willing to step in to help guests and with any request from our team he is happy to oblige.
Ty is truly dedicated and comes not just not just on time but early each work day.  When he arrives he carries his good attitude with him and it's contagious to those who encounter him.  He is such a good worker.
Job Coaches Lorenzo and Arianna are really great in keeping Ty on task and motivated. They are an incredible support system and along with Ty are an important part of our team environment.  We look forward to continuing to watch Ty grow and excel."
Lorenzo Green has been Ty's job coach he started working at Pink Buddha. "I have witnessed Ty learning and having fun with his coworkers, and making work a jovial atmosphere for all," said Lorenzo.
In his free time, Ty has his own YouTube channel and enjoys making light and sound displays.