2023 Annual Meeting & Installation Ceremony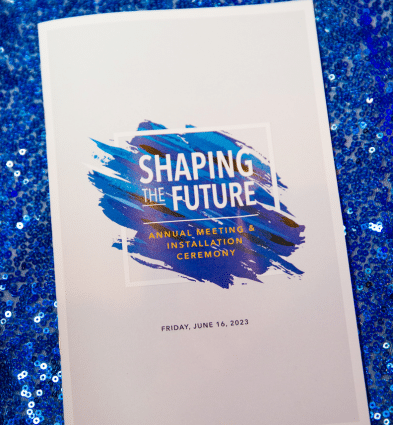 On June 16, 2023 we gathered at the DoubleTree by Hilton San Diego - Mission Valley to celebrate the installation of the 2023-2024 Board of Directors and honor those who have contributed to the success of The Arc of San Diego over the past year. Joined by Mistress of Ceremony Perette Godwin, we recognized clients, staff, and volunteers for their achievements and enjoyed a night of dinner, celebration, and dancing.
EMPLOYEE OF THE YEAR
Shannon Housley Early Intervention Services
Blanca Rubio Gonzalez Respite Services
Delfina Guillen Employment Services
Andrea Vernaci Arc North County
Cesiah Orozco Residential Services
Toni Rader Community Living Services
Adela Martinez The Sol and Ruth Gerber Family Center
Natthida Soomtha East County Training Center
Claudia Villa Sulpizio Family Center
Susan Hudson Community Inclusion Services
PRESIDENT'S VOLUNTEER SERVICE AWARD
Tim Himstreet Arc San Diego Foundation Board Member
Paul La Bounty Chair, Arc San Diego Foundation
CHILD OF THE YEAR
Alessandra Herrera Early Intervention Services
CLIENT OF THE YEAR
Daniel Aguilar Respite Services
Jose Gonzalez Arc North County
Tamara Cumbee Residential Services
Cesar Munoz Community Living Services
Imelda Garcia The Sol and Ruth Gerber Family Center
John Beckwith East County Training Center
Karla Ching Sulpizio Family Center
Joshua Wray Community Inclusion Services
CHERRIE SEVICK LIFETIME ACHIEVEMENT AWARD
Gerald Hansen
FRANK B. LALOR AWARD
Michael Brault Secretary/Treasurer South Bay Chapter Advisory Board
We are proud to have recognized our clients for the opportunity to support them in living a fulfilling life and achieving their life goals. We appreciate their contributions to our organization and are proud to salute their accomplishments. We honored our staff for their outstanding performance and exceptional commitment to The Arc of San Diego. We also honored our volunteers for their dedication and loyalty. We appreciate everyone's support in helping us positively impact the lives of individuals with disabilities at The Arc of San Diego. Congratulations to all of our honorees who were recognized at the 2023 Annual Meeting & Installation Ceremony.